Mabel Aworh-Ajumobi
Country Liaison: Nigeria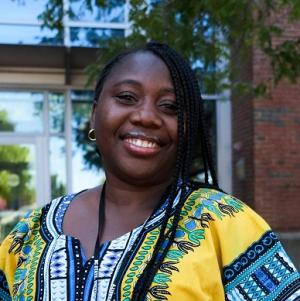 OIE National focal point for Animal Welfare in Nigeria
Visiting scholar at the College of Veterinary Medicine, North Carolina State University, Raleigh, NC, USA
Assistant Director (Animal Welfare)
Email: or
Mobile: +2348032377831
Dr Mabel Aworh-Ajumobi is an Epidemiologist with a decade of experience in veterinary epidemiology, public health, research and leadership, amongst others in government and four of these years were as Head of the Animal Welfare Unit of the Department of Veterinary Services, Federal Ministry of Agriculture and Rural Development, Abuja, Nigeria.
She received her Doctor of Veterinary Medicine (DVM) degree from University of Ibadan, Nigeria in 2004 and obtained her Master in Public Health (Field Epidemiology) degree from Ahmadu Bello University Zaira, Nigeria in 2012. She is a Cohort 2 graduate of the Nigeria Field Epidemiology and Laboratory Training Program since 2011 and has conducted research focused on One Health issues. Mabel has led research and survey teams, and currently has 11 publications in peer-review journals.
She is a member of the Antimicrobial Resistance Technical Working Group in Nigeria and head of Nigerian delegates to two Codex Committee meetings since 2015 including Codex intergovernmental task force on Antimicrobial Resistance.
She is a goal-getter irrespective of the challenges with good interpersonal skills and a passion for learning. Her current research is titled 'Multi-Drug Resistant Escherichia Coli in Humans, Poultry and Poultry Environment in the Federal Capital Territory, Nigeria: Potential Risk for Human Health'