Educational Resources
Below are some potentially useful resources for those interested in studying applied ethology or looking for tools to aid in their research.
Webinars
Applying Ethology Webinars
A group of ISAE members have created and organized a space for bi-monthly virtual webinars focused on current research in Animal Behaviour and Welfare. All are welcome to join!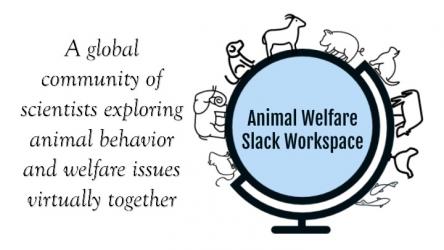 Webinar Details
Webinars are hosted on the first and third Monday of each month at 8 PM CET. Topics can be found on the Slack workspace or this webinar schedule. To join Applying Ethology in the Animal Welfare Slack workspace, please email Jen-Yun Chou, Sebastien Goumon, Christian Nawroth, or Laura Whalin for admittance (see below for email addresses).
Once you have access to the Slack workspace, you may access the calendar with scheduled talks, links to future presentations, recordings of past webinars, and speaker biographies are included in the #webinar channel. All webinars will be streamed through zoom. Check-in to the slack space regularly for the current calendar.
Presenters
If you would like to give a webinar presentation, please fill out the form below. These talks are open to all students and scientists interested in animal behaviour and welfare.
ISAE Officers to Contact
Jen-Yun Chou -

Sebastien Goumon -

Christian Nawroth -

Laura Whalin -
Previous Webinar Recordings
To see previous Applying Ethology webinars, please feel free to subscribe to the Animal Welfare Slack YouTube channel.
Graduate Study
If you are thinking of pursuing doctoral education in applied animal behaviour science, contact directly the researcher whose work you are interested in.
You may find interesting articles and possible persons to contact from the main scientific journal in the field: Applied Animal Behaviour Science. The journal publishes relevant information on the behaviour of domesticated and utilized animals.
In addition, there is an ongoing flow of several PhD courses on the subject, organized by individual labs and universities all over the world. Many of those are advertised through ISAE membership newsletters and on our employment page.
Information about MSc and PhD courses in the United States can be found at http://graduate-school.phds.org/education-index
Applied ethology is taught in several universities all over the world, either part of biology, agri-scientist or veterinary education, or as an independent degree. You can get more info by contacting the Regional Secretary near you.
Some institutes are offering applied-animal-behaviour-related online e-learning courses, such as the Cambridge e-learning institute.
MSc: Applied Animal Behaviour and Animal Welfare
This programme is aimed at graduates in biological sciences, psychology and veterinary medicine who have an interest in understanding animal behaviour, and how to use animal behaviour in the assessment of animal welfare. This programme has been running since 1990 and has gained a very strong international reputation. The main aims of the programme are to increase understanding and awareness of scientific principles of animal behaviour, and to demonstrate application of these principles to animals in various situations to assess animal welfare. The programme consists of five courses: Introduction to Applied Animal Behaviour and Welfare, Biology of Suffering, Animal Cognition and Consciousness, Scientific Methodology and Animal Welfare Applications, followed by a Dissertation Project. We also aim to improve student's confidence in their ability to communicate their understanding of animal behaviour and welfare, and to consider and embrace diverse opinions and ethical viewpoints relating to animal welfare. For more information or to apply please see our website: http://www.link.vet.ed.ac.uk/animalbehaviour
MSc: International Animal Welfare, Ethics and Law
International concern for animal welfare continues to grow with increasing demand for measures to protect animals and improve animal quality of life, alongside a need for well qualified people to work in this area. The online MSc/Dip/Cert in International Animal Welfare, Ethics and Law provides a high quality educational experience entirely by online distance learning. The aim of the programme is to provide knowledge and an understanding of animal welfare science, with a focus on the international issues arising from animal use in all its forms. We will offer students the chance to learn about: scientific concepts of animal welfare; methods of animal welfare assessment; animal ethics and social responsibility; policy, legislation, regulation and enforcement. Additionally, there will be courses offered on key areas in applied animal welfare such as the welfare of production animals, companion animals, research animals and captive wild animals. Applicants are now able to take any of our courses as standalone Postgraduate Professional development, up to the value of 50 credits. For more information or to apply please see our website: http://www.ed.ac.uk/vet/international-animal-welfare
MSc: Applied Ethology and Animal Biology
This international master program, running since 2003, is offered by Linköping University in Sweden. It is a two-year program consisting of one year of theoretical courses (e.g., Applied Ethology, Stress and Animal Welfare, Primate Ethology, etc.) followed by a one-year master project. It aims at students with a bachelor in biological sciences, veterinary medicine or other equivalent degrees. The courses are given in close cooperation with the largest zoo in Sweden, Kolmården zoo. After fulfilling the program, students can continue with a PhD-training or find jobs, for example, in academia, in animal welfare authorities and as zoo curators and advisors. Please check out our website: https://liu.se/en/education/program/6meth

Short Online Course - Animal Behaviour: An Introduction
The study of animal behaviour is not only shedding light on the range of fascinating behaviours found in nature, but it also increases our understanding of our animal companions and ultimately of ourselves. In this 10-week online course, you will learn about a wide range of behaviours from foraging to animal intelligence, while at the same time getting a comprehensive introduction to evolutionary thinking. The tutor-led interactive course uses examples from a broad range of animal groups including, web-building in spiders, social behaviours in ants, learning in dogs and tool use in birds and mammals. For more information please see our website.
Course on Animal Welfare Science, Ethics and Law
Through a combination of lectures, videos and discussions, this course is designed to give attendees a solid background in animal welfare science, ethics and law. The Course is made up of four individual sections. You can book to attend all of the sections or just the one(s) you are interested in.
Past attendees have included veterinarians animal welfare researchers and students, and animal charity workers/campaigners, and have come from a wide variety of countries: Australia, Belgium, Brazil, Canada, Chile, Colombia, Cuba, Egypt, Ethiopia, Finland, France, Germany, Ghana, Greece, Hong Kong, India, Ireland, Italy, Japan, Kenya, Mexico, Norway, Pakistan, Philippines, South Africa, Spain, Sweden, The Netherlands, the UK and the USA. Find out more at: www.cawsel.com
Courses animal behavior and welfare, recommended by and for ISAE student members
Do you have any additional recommendations? Please let your ISAE student representatives know!
| | | | |
| --- | --- | --- | --- |
| Course/programme | Level | Institute | Name |
| ANSC 689 Animal Welfare (part of the Animal Science program) | Graduate | Texas A&M University, USA | |
| Psychology advanced seminar in animal welfare (topics have varied from year to year) | Undergraduate | New College of Florida, USA | |
| Clinical Animal Behaviour | MSc | University of Lincoln, UK | |
| Biology of lactation in dairy systems with cow and calf contact | Postgraduate | SLU Ultuna, Sweden | |
| Applied Animal Behaviour and Animal Welfare | MSc | University of Edinburgh, UK | |
| Equine Behaviour and Welfare | | Writtle University College, UK | |
| Fundamentals of Animal Emotion | PhD | Wageningen U&R, the Netherlands | |
| Trends in Stress Biology | PhD | Aarhus University, Denmark | |
| Animal Welfare Certification Course | | Cloverleaf Animal Welfare Systems, USA | |
| Animal pain | | Aarhus University, Denmark | |
| MOOC Bien-être animal des animaux d'élevage (course in French) | | VetAgroSup, France | Luc Mounier |
| Animal Welfare and the United Nations Sustainable Development Goals | PhD | SLU Ultuna, Sweden | |
| Seminar: Hormonal regulation of relationships (21-23 June 2023) | PhD | Utrecht University, the Netherlands | |
| Environmental Biology (Behavioural Ecology track) | MSc | Utrecht University, the Netherlands | |
| Animal Sciences | MSc | Wageningen U&R, the Netherlands | |
Education and Teaching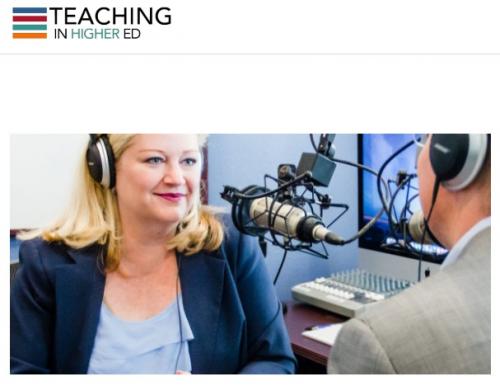 Podcast: Teaching in Higher Ed – The space where we explore the art and science of being more effective at facilitating learning. We also share ways to increase our personal productivity, so we can have more peace in our lives and be even more present for our students.
Recommended by: Megan LaFollette, former ISAE Student Representative
Time & Task Management Tools
As researchers and scientists we are constantly striving to improve ourselves beyond our specific field. Below we have collected some ISAE member tested tools that may help others. If there is a resource you use, love, and think others would be interested please let us know!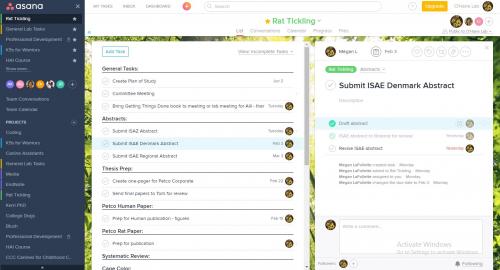 Asana – With tasks, projects, conversations and dashboards, Asana enables individuals and teams to move projects from start to finish. You can set due dates, priorities, have separate projects and sub-tasks and even communicate using this utility.
Recommended by: Megan LaFollette, former ISAE Student Representative
Slack – keep all of your communication and tools in one place to keep remote teams produtive. See the Webinars tab above for information on joining the Applying Ethology webinar in the Animal Welfare Slack workspace!
Recommended by: Christian Nawroth, ISAE Communications Officer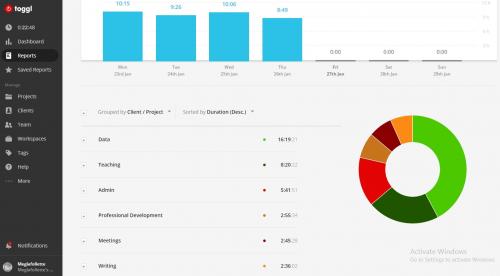 Toggl – Wonder where your time goes everyday? Find out, keep yourself on track, and know your habits. Toggl can help you understand how much time really goes into setting up cameras for project set-up, checking emails, or preparing lessons for teaching. It may also help motivate you or track research assistant hours. Get daily, weekly, monthly and custom reports.
Recommended by: Megan LaFollette, former ISAE Student Representative
Trello – work more collaboratively and get more done with boards, lists, and cards to organize and prioritize your projects in a fun, flexible, and rewarding way
Recommended by: Christian Nawroth, ISAE Communications Officer
Research Guidelines
ARRIVE
The ARRIVE guidelines (Animal Research: Reporting of In Vivo Experiments) are a checklist of recommendations to improve the reporting of research involving animals – maximising the quality and reliability of published research, and enabling others to better scrutinise, evaluate and reproduce it.
EQIPD
EQIPD (Enhancing Quality In Preclinical Data) offers simple and sustainable solutions that facilitate improvements in data quality without impacting innovation and freedom of research, developed by scientists in academia and industry
PREPARE
As part of ongoing efforts to reduce waste, promote animal alternatives, and increase the reproducibility of research and testing, a group of experts from the UK and Norway, led by Norecopa, has produced a set of guidelines for planning experiments: PREPARE (Planning Research and Experimental Procedures on Animals: Recommendations for Excellence)
STRANGE
The STRANGE (Social background; Trappability and self-selection; Rearing history; Acclimation and habituation; Natural changes in responsiveness; Genetic make-up; and Experience) framework was designed to help scientists identify, mitigate and report sampling biases in animal behaviour research and allied fields.
Behaviour Science Tools
Software and equipment for behavioural science
Behavioural Phenotyping: software for your behavioural data recording and analysis purposes
BORIS: Behavioral Observation Research Interactive Software - free software for coding behavioral video or audio recordings
Cowlog: a free software for recording behaviors from digital video developed
EasieRR: a free open-source software for artefact processing and heart-rate variability (HRV) analysis in the time- and non-linear domain. Its intuitive graphical user interface allows researchers as well as novices in the field to calculate heart rate parameters and conduct analysis of heart rate variability.
LABORAS: system for the automatic behavior recognition of rats and mice (by Metris b.v)
Loligo Systems: specially-made research and teaching equipment for animal physiology, behavior and kinematics
The Observer: behavioural software by Noldus Information Technology (other software: EthoVision, UltraVox, MatMan, Theme)
Optibrand: livestock identification using retinal images
Raven: interactive sound analysis software from the Cornell University lab of ornithology
SONOTRACK: system for the recording and analysis of Ultrasound Vocalizations (by Metris b.v)
Sound Ruler: free acoustic analysis, graphing and teaching tool
TrackSys, Limited: software solutions for behavioural research
Etholog: tool to aid the transcription and timing of behavioral observation sessions (FREEWARE)
Open Science
Building a Scientific Network
If you are a scientist working in the field of applied ethology in a country in which the field is not that established and wish to get in contact with other applied animal behaviour scientists, please contact either your nearest Regional Secretary or .
Other resources
The Ethogram - blog of the Animal Behavior Graduate Group at the University of California-Davis
ISAZ - blog of the International Society for Anthrozoology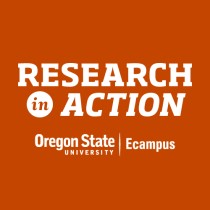 Research in Action – A podcast about topics and issues related to research in higher education featuring experts across a range of disciplines. Episodes are posted weekly and include guest interviews and occasional solo episodes. Guests are from a range of higher education institutions and share their expertise on qualitative, quantitative and mixed methods as well as their personal experiences as researchers, research and writing practices, organizational and productivity strategies, and much more. Some weeks, bonus content will also be posted.
Recommended by: Megan LaFollette, ISAE Student Representative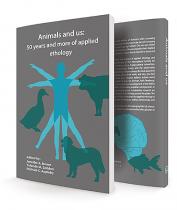 Animals and Us – Open access book edited by Jennifer Brown, Yolande Seddon, and Michael Appleby. This worldwide view of applied ethology was produced for the ISAE 50th anniversary in 2016.