Report on 1st OIE Animal Welfare Global Forum
As you may already know, the OIE (www.oie.int) is an international organisation with a 90-year history and 180 member countries. Its Global Animal Welfare Strategy was created with the vision of 'a world where the welfare of animals is respected, promoted and advanced, in ways that complement the pursuit of animal health, human well-being, socio-economic development and environmental sustainability.
Since March 2017, the ISAE has collaborated with the OIE (see ISAE Newsletter N° 50, June 2017 for details), and the OIE is a corporate member of the ISAE. The OIE 1st Animal Welfare Global Forum was held in Paris at the end of March, and the full report is available at the link below:
ISAE was invited to participate in this meeting. Although it is usually the President who takes on such tasks, Council is of course not spendthrift and instead sent the Council member living closest to the meeting venue. The aim of the forum was to discuss ways to support the implementation of the OIE animal welfare standards worldwide.

Together with OIE Focal Points (i.e. national OIE representatives) on animal welfare from around the globe (photo above), I spent two days full of great presentations, interesting discussions, and productive working groups. David Fraser (photo below) gave an excellent overview of the subject, talking about steps toward implementing animal welfare standards and practices. In particular, he highlighted the need for both the will and creativity to write actual standards, and not just irrefutable statements such as 'Animals should have adequate access to water' – something nobody would disagree with. Several other ISAE members also gave talks, including Francisco Galindo, in his capacity as heading one of the four OIE Collaborating Centres on Animal Welfare, and Kate Littin, who is the OIE Focal Point for New Zealand.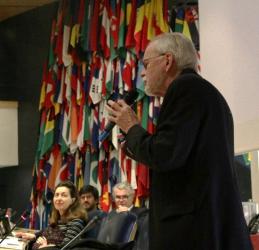 The current plan is to repeat this Forum on an annual or biennial basis, and the ISAE will continue to play a role in these discussions. Indeed, the emphasis of the OIE animal welfare standards being science-based contributes to the importance of input from members of the ISAE.
Birte L. Nielsen, Senior Vice-President of the ISAE
(Originally published in the 52nd ISAE newsletter, June, 2018)
Apply for Membership
There are nearly 700 members worldwide and each year the Society assembles for a major International Congress, where in addition to addresses by special keynote speakers, members present their latest research findings. There are also regular regional conferences held to encourage local knowledge exchange.