Graduate Certificates in Animal Welfare & Behavior
The University of Pennsylvania is please to announce a new and exciting program here at Penn Vet. Beginning this Fall 2019, Penn Vet will be launching our Online Graduate Certificate in Animal Welfare and Behavior. Our Certificate program is the first online academic program offered by our School, and as a faculty member in the program, I'm especially looking forward to sharing my passion and expertise with a broader audience.
Our certificate program is comprised of four graduate level courses, namely: Animal Welfare Science, Fundamentals of Animal Behavior, Applied Animal Welfare and Behavior and Animals and Society.
To give you a more complete overview of the program's requirements and content, discuss opportunities applicants will have as virtual Penn students, and introduce you to our faculty, we will be holding three online, live information sessions prior to the application deadline (October 1, 2019).
Please feel free to reach out if you should have any questions regarding our program. I hope to welcome you in one of our upcoming information sessions!
James A. Serpell
University of Pennsylvania
School of Veterinary Medicine
vet.upenn.edu/awb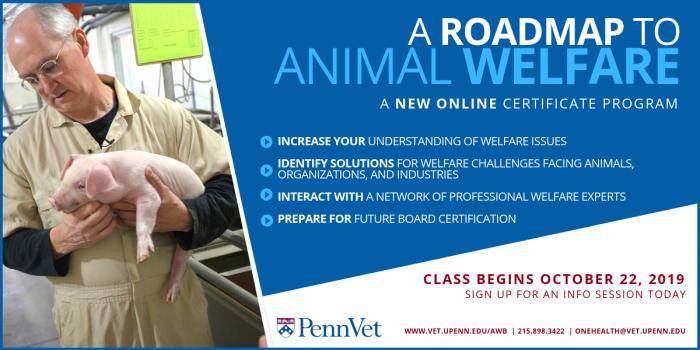 Apply for Membership
There are nearly 700 members worldwide and each year the Society assembles for a major International Congress, where in addition to addresses by special keynote speakers, members present their latest research findings. There are also regular regional conferences held to encourage local knowledge exchange.