ISAE 2020 Global Virtual Meeting
Please email for any inquiries about this event.
ISAE is going virtual!
Due to the outbreak of COVID-19, the ISAE Congress in Bangalore India was postponed to August 2021. In the meantime, we would still like to provide an opportunity, especially for students and early career scientists, to present their work. We therefore announce a virtual meeting on 6-7 August 2020. This meeting will feature different ISAE regions from six continents to showcase the diversity within our society, running as a 2x12h online webinar marathon!
As a scientific society, ISAE recognises the importance of supporting and promoting diversity in its membership and the wider community, in gender, age, ethnicity, geographical representation and other factors. Therefore, we always welcome and encourage people from all backgrounds to submit an abstract for a talk and participate in our virtual meeting. The meeting will be free of charge and open to members (with early-bird registration) and non-members alike.
This meeting will not only facilitate networking of applied animal welfare scientists around the globe, it will also be the perfect chance to learn more about the latest research happening in each ISAE region, so do join us in this first time ISAE global virtual meeting!
Submit your abstract here:
Register for the meeting sessions here:
Important Dates:
22 June: Early bird member registration open / Abstract submission open
29 June: Public registration open
10 July: Abstract submission close
20 July: Speakers notified
28 July: Registration close
31 July: Deadline uploading talks
6-7 Aug: Meeting time! (12 h Thursday + 12 h Friday)
Provisional Programme at a Glance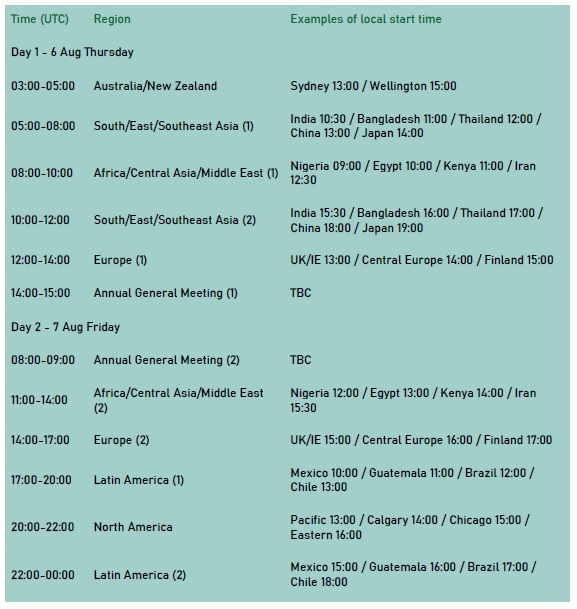 Additional information:
English is encouraged as the official language for presentation, but in order to facilitate regional exchange and promote regional students/scientists, there is an option to give talks in the local language with slides in English. Please get in touch if you are thinking about presenting in your native language to see if it is possible to have English subtitles for your talk.
We recommend talks to be around (and not exceeding) 20 minutes with additional 5-10 minutes of Q&A.
If any member has presented their work in a regional meeting this year, you are very welcome to submit your abstract again to the virtual meeting to share with a wider audience.
The meeting has a limit of 500 attendees on a first-come, first-served basis. Members are provided with early bird registration.
For presenters: If your abstract is accepted, an official abstract template will be sent to you to collate into electronic proceedings published online. Instructions on how to pre-record voice-over presentations, upload the talks and participate in the Q&A during your session will also be sent to the presenters.
For participants: Once registered, further details on how to connect to each Zoom session will be sent to your email closer to the meeting time. The time in the final programme is subject to change so do check this page and your email for the most updated information.
All event emails will be from so be sure to check they do not end up in your spam folder.
Due to the outbreak of COVID-19, the organizers of ISAE 2020 and the ISAE Council have decided to postpone the ISAE congress in Bangalore India to August 2021.
The new dates of the congress will be 2nd to 6th August 2021. The congress will be held at the same venue that was planned for 2020, The Chancery Pavillion Hotel in Bangalore, India.
Abstract submission will be re-opened by the end of 2020. Submitted abstracts can be retained until next year, but authors are also free to edit their abstract, withdraw it or submit a new abstract closer to ISAE 2021.
Registrations can be held until next year, without extra costs for the person registered.
For questions please contact us through:
The congress planned in North Macedonia in 2021 will be postponed until 2022. ISAE Council thanks the organizers of both Congresses for their flexibility.
We wish all people the best in these difficult times and hope that the worldwide situation regarding the outbreak of COVID-19 will improve in the next months.
Future Congresses
55th International Congress, 2022: Republic of North Macedonia
If you and your research institute are interested in organising an ISAE Congress in future (2023 and beyond), please contact the ISAE Senior Vice-President (currently Bas Rodenburg, ) for more information. We usually have the ISAE Congress alternate years in and outside Europe, but the guidelines are as flexible as we make them.
In the event of cancellation of a congress (e.g., as a consequence of a disease outbreak or acts of terrorism), the ISAE retains the right (by 'force majeure') to keep congress registration fees to cover outstanding expenses, if absolutely necessary.
Congress Attendance Fund
The ISAE has developed a Congress Attendance Fund (CAF) to cover the registration fees of some ISAE members for the annual International Congress. The fund will be no less than £2000, which will be allocated to needy ISAE members to contribute toward the Congress registration fee or accommodation (but not usually travel).
To be eligible, the applicant must be a member of the ISAE before submitting their application. The applicant must have submitted an abstract, and money will only be allocated if their presentation is accepted. Applications for funding will be reviewed by the CAF Committee and will be prioritized on the basis of financial need and quality of the abstract. Researchers and students from developing countries are especially encouraged to apply for this support. Please note that support from the CAF to any one person is limited to once in any 5-year period – if you have received funding in the last 5 years, please do not apply.
Please check back for updates on the 2021 CAF.