Vijay Pal Singh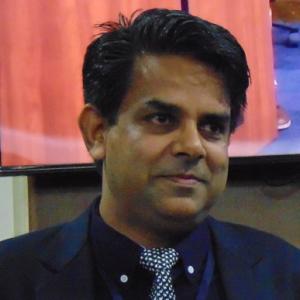 Ph.D. (Biotechnology)
Assistant Professor (AcSIR) & STO
CSIR-Institute of Genomics and Integrative Biology
New Delhi-110025
Email: or
Phone: +91-11-29879168 or +91-9212380919
Dr. Vijay Pal Singh works as Veterinarian (Senior Technical Office-III) in CSIR-Institute of Genomics and Integrative Biology and Assistant Professor in Academy of Scientific and Innovative Research (AcSIR). He is a Graduate in Veterinary Medicine, Post graduate in Dairy Husbandry and milk processing & Doctorate in Biotechnology.
He is specialist in Lab Animal Science and animal welfare trained at Utrecht University Netherlands and Cambridge University U.K, Adhoc-specialist, International Association for Assessment & Accreditation of Laboratory Animal Care (AAALAC). Ambassador, Systematic Review Centre for Laboratory Animal Experimentation (SYRCLE), Radboud University, Netherlands, and Studied Animal Welfare Ethics and Law from Cambridge University, United Kingdom. Appointed ISAE Country Liaison for India.
Dr. Singh has more than a decade of experience in animal welfare. He has played pivotal role in conducting 3 international courses on Laboratory Animal Science as a part for improving the research being done on lab animals in a more ethical and humane way possible. He has 25 indexed research articles in indexed journals along with a vast experience of attending many international courses related to lab animal science and animal welfare.