Saskia Kliphuis
Student Representative (2021-2023)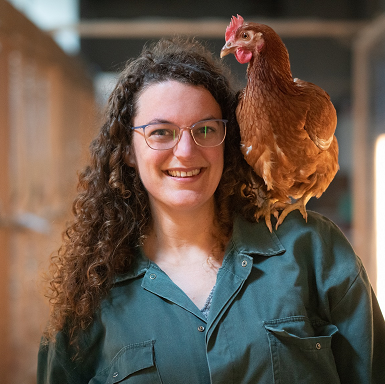 Saskia Kliphuis has a passion for animal behaviour and welfare. She finished her Masters Environmental Biology at Utrecht University (UU), as a specialist in behavioural biology and animal welfare. After a fulltime year as student at the Dutch National Student Union, she started at the faculty of Veterinary Medicine as project leader in the 3Rs-Centre, working on replacement, reduction and refinement of animal experiments. Three years later she started her PhD, in 2019.
Her PhD research focuses on improving laying hen welfare in organic housing systems. She studies the effect of a light-dark cycle during incubation and enrichment with insect larvae during rearing on fearfulness and feather pecking. Besides this experimental work, she facilitates a focus group of Dutch organic poultry farmers to tackle welfare issues straight from practice. Her research is part of the PPILOW project: 'Poultry and Pig in Low-input and Organic Production systems' Welfare' (http://www.ppilow.eu).
During her first ISAE congress in Bergen in 2019, Saskia felt right at home in the ISAE community. She is very excited to have the opportunity to represent all ISAE student members. She aims to facilitate the formation of long-term connections among members of all levels of experience. In addition, she would like to update the overview of PhD courses on the ISAE website. She is looking forward to meeting many fellow animal welfare fanatics at future ISAE events!
: s.kliphuis@uu.nl