Event Details
ISAE Benelux Conference 2022
24th Nov 2022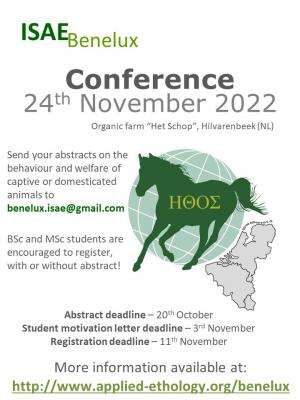 The ISAE Benelux Conference 2022 will take place on 24th November 2022 at the organic farm "Het Schop" (Hilvarenbeek, the Netherlands).
We would like to welcome you to present a study on the behaviour or welfare of farm, laboratory, companion or zoo animals. If you are interested in doing so, please send your abstract to . Of course, the conference is also open to people who want to attend but don't want to present a study themselves.
The official conference language will be English.
Program
Key-note speakers

Prof. Bas Rodenburg (Utrecht University)
Dr Charlotte Vanden Hole (ILVO)

Scientific talks: to be announced
Guided tour of the farm
We plan to focus on oral presentations, although posters will be allowed at the author's own request. If we receive many requests for oral presentations we may have to change some of these into posters.
Important dates
Abstract submission deadline: 20th October 2022
Notice of abstract acceptance: 27th October 2022
Student motivation letter deadline: 3rd November 2022
Notice of acceptance of free student registration: 9th of November 2022
Registration deadline (including registration for dinner): 11th November 2022
Registration fee
ISAE member (incl. lunch): €35
Non-ISAE member (incl. lunch): €55
MSc. and BSc. students will be able to apply for free registration by sending a short motivation letter (max. 1 A4) to . Free registration does not include dinner.
Dinner (incl. drinks): €40
Location
Esbeekseweg 2
5081 ED Hilvarenbeek
The Netherlands