Fiona Lang
Assistant Secretary (served 2015-2019; in memoriam)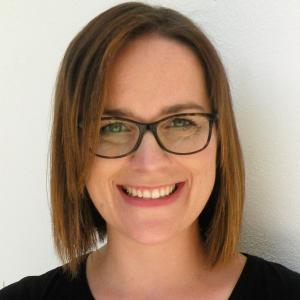 It is with great sadness that we share the news of the untimely death of our friend and colleague Dr. Fiona Rioja-Lang. Fiona was Assistant Secretary of ISAE since 2015 and was an active member of our Society.
Fiona was a graduate of the MSc Applied Animal Behaviour and Animal Welfare at the University of Edinburgh and completed her PhD with SRUC and the University of Edinburgh in 2009 on dairy cow welfare and feeding behavior. After her PhD, she spent 2 years as a postdoc at the Prairie Swine Centre in Canada working on dairy cow and pig welfare. Since 2011, Fiona was living with her family in Yucatan, Mexico and continued to work remotely for the Prairie Swine Centre and the National Farm Animal Care Council (NFACC) of Canada. Most recently before her death, Fiona had been working remotely as a Research Fellow for the Jeanne Marchig International Centre for Animal Welfare Education at the University of Edinburgh investigating the priority animal welfare issues in the U.K.
Fiona was a wonderful colleague, who will be remembered for her enthusiastic, open and friendly approach to her work and her positive attitude to life. She was committed to animal welfare and has made a significant contribution to the lives of animals, from her personal work with the street dogs in Mexico, to her academic work on farmed livestock. Fiona was particularly interested in how we can optimise the housing design of farm animals to improve animal welfare. She was well known and loved in the animal welfare community.
In order to share some of Fiona's legacy with her family, Dr. Christy Goldhawk (ISAE Assistant Communications Officer), Dr. Julie Wittrock, and Dr. Giuliana Miguel (ISAE co-Regional Secretary, Latin America) have come up with the lovely idea to curate a collection of stories and photos into a book for Fiona's family. If you would like to share your memories of Fiona, the e-mail address is: . ISAE will dedicate part of the June 2019 Newsletter to Fiona's memory and we will commemorate her at the Annual General Meeting during the Congress in Bergen on 8 August 2019.
(Adapted from letter by Bas Rodenburg, President of the ISAE, May 2019)