Bianca Vandresen
Student Representative (2022-2024)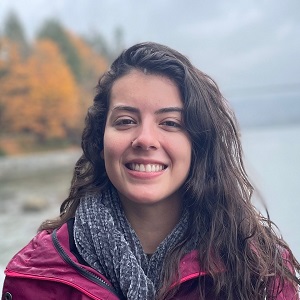 Bianca Vandresen is currently pursuing her PhD under the supervision of Dr. Marina (Nina) von Keyserlingk at The University of British Columbia with the Animal Welfare Program. Bianca is working with different groups of stakeholders to identify and develop socially sustainable pathways to address animal welfare issues in the dairy industry.
Bianca is natural from Santa Catarina, a state located in the south of Brazil. Prior to moving to Canada, Bianca got her Degree in Veterinary Medicine at The Federal University of Santa Maria. From there, she earned her Master of Science in Agroecosystems from The Federal University of Santa Catarina. Her thesis project investigated the social sustainability of using loose farrowing systems to house sows and piglets.
In addition to her PhD studies, Bianca is Secretary for the Animal Welfare Foundation of Canada, a non-profit organization that promotes opportunities for animal welfare organizations and professionals to develop projects to improve the welfare of animals in Canada.
Bianca loves working with people, her studies have been focused on the human aspect of animal welfare and she has great experience with bringing people together. She looks forward to working with ISAE students and professionals to help create an even more connected ISAE community.
: bvandres@student.ubc.ca