Andreia De Paula Vieira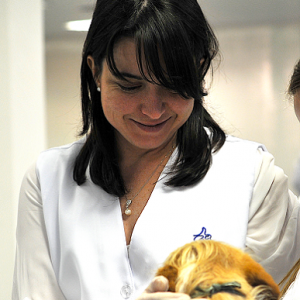 Andreia De Paula Vieira is the Technical Manager for Centro de Pesquisa da Universidade Positivo (CPUP) and Professor of Animal Welfare and One Health in the Faculty of Veterinary Medicine, Universidade Positivo (UP). CPUP, a multidisciplinary research center, and the Veterinary School are located in Curitiba, Brazil.
Andreia is a veterinarian who also received her PhD in animal science from the University of British Columbia (UBC, Vancouver, Canada). While at UBC, she studied the effects of early social interactions on calf responses to novel events. Andreia received her MSc from Universidade Estadual de Londrina (Brazil), where she investigated hunger indicators in dairy calves.
Between 2012-2015 Andreia served as project coordinator for the Animal Welfare Indicators Project (AWIN - WP4), where she led the development of the information architecture for the Animal Welfare Hub and a team of IT developers and designers in Brazil. The Hub integrates current information from animal welfare science (e.g., by using learning objects both derived from the AWIN project and elsewhere), recent literature in animal welfare education and topical societal debates into interactive knowledge environments. Currently, Andreia serves as ISAE Country Liaison for Brazil.
Email: